Monica Bellucci, still glamorous at 56 for Dolce & Gabbana
Between Dolce & Gabbana and the Italian actress and ex-top, it's a love story that has lasted forever. In 2021, Monica Bellucci, at the age of 56, becomes the face of the campaign for the Devotion bag, a handbag that has become cult since its launch in 2018.
It's all dressed in black that Monica Bellucci, the best-known of Italian actresses and top models, poses in front of the sublime setting offered by Lake Como in Italy. An idyllic setting for the brand new advertising campaign for one of the best-selling handbags of 2021: the Devotion Bag by Dolce Gabbana.
At 56, Monica Bellucci, a lifelong friend of the brand for which she was still parading in 2019, and who also offered her first ambassador contract to her daughter, Deva Cassel, therefore embodies this handbag launched in 2018 and already cult. . An it-bag that is available this spring/summer 2021, new formats, colors and materials (it is now available in small, medium and large sizes, in candy pink, denim or glitter and made of different materials such as leather of smooth calfskin, raffia...etc).
3 outfits, 3 bags for 3 women's styles
For this ultra-glamorous photoshoot, Monica Bellucci varies the pleasures with three different outfits, all dressed in black from the Dolce & Gabbana spring/summer 2021 collection: a long lace dress with a boat neckline, a long transparent dress on a black bodysuit and finally, a very fitted black evening dress. Each bag has its own style, from the glitter trend to the raffia model, among the season's top accessory trends. Dolce & Gabbana's Devotion bag is also available in pink, the big trend color of the season.
Monica Bellucci, glamor still at 56
Smoky eyes, long bangs transformed into locks and wavy hair cut in a long bob, Monica Bellucci has always embodied Italian glamour. And her fifty-something status takes nothing away from her charm and natural sensuality. Always so adored by couture brands, she still stands out as a glamorous reference in the fashion world in 2021. "Monica Bellucci is the emblem of Italian beauty in the world. Her friendship makes us proud and her charm gives a incredible light to our creations. With Monica Bellucci we share the devotion for beauty and craftsmanship, for work, family and Italy. It is a pleasure to be able to tell all this love at her side "says Domenico Dolce and Stefano Gabbana. A beautiful tribute.
What do you think are the most beautiful looks from the 2021 Oscars ceremony?
Photo credits: Branislav Simoncik/Dolce & Gabbana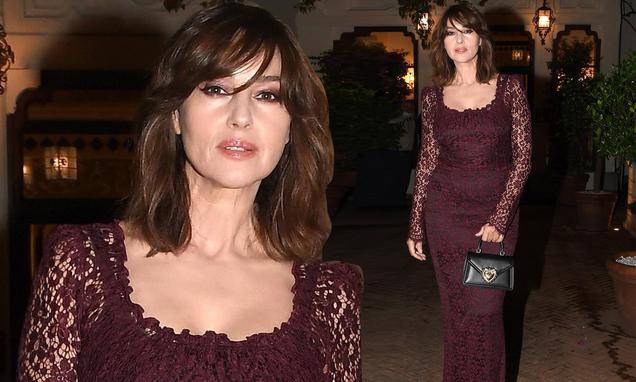 Around
---
Sactance accessoriesfashion trend spring-summer 2021Dolce & Gabbanaaccessoriesfashion trend
About
---
Monica Bellucci
Deva Kassel
Latest news on: Monica Bellucci
---
Article containing a slideshow

Vincent Cassel and Monica Bellucci: what are their relationships since their divorce?
Article containing a video

Monica Bellucci: why she divorced her first husband Claudio Basso
Article containing a video

Monica Bellucci: why her marriage to Vincent Cassel ended
Article containing a video

"Screams, discomfort…": Monica Bellucci, this Cannes Festival that she will not forget
Stephanie of Monaco: return on her express marriage with the acrobat Adans Lopez Peres

Flashback!
On the same topic
---
---

Monica Bellucci, sexy mama for Dolce & Gabbana

---

Article containing a slideshow

PHOTOS – The first images of Deva Cassel, Monica Bellucci's daughter, for Dolce & Gabbana

---

Article containing a video

At 14, Deva the daughter of Monica Bellucci and Vincent Cassel becomes the face of Dolce & Gabbana

---

Monica Bellucci "Vincent, I will always love him"

---

Madonna label Dolce & Gabbana

---

Couture hijabs for Dolce & Gabbana

---

Dolce & Gabbana stop D&G

---

Gandy's book, by Dolce & Gabbana

---

Monica Bellucci "I will always have respect for Vincent"

---

Article containing a video

PHOTOS – Monica Bellucci: at 53, she gives a lesson in great glamor in Dinard, Brittany

---
About Monica Bellucci
---
Vincent Cassel
Sophie Marceau
Keanu Reeves
Bruce Willis
Mel Gibson
Matt Damon
Cecile Cassel
Gérard Depardieu
Kad Merad
Jean Pierre Darroussin
Thierry Neuvic
Melita Toscan du Plantier
Gaspar Noe
monica cruz
Emir Kusturica
Ornella Muti
Tags: