Michael Roponus: the cap like a jewel
C'est en 2012 que Michael Roponus pose ses valises en Polynésie. Musicien, il monte un groupe de percussions, les Tambours du fenua, et donne des cours de batterie.
Artist in the soul, he also performs portraits.Quickly, pushed by those around him, he is interested in different supports, and engraving."The engraving, I learned about the heap.Basically, I started in wood engraving on wood. "
Three years ago, he launched his business of personalized products to OE Design, and mainly creates decorative items.But the interest in textiles is born fairly quickly.He plans to personalize a daily accessory, the cap.
His idea: associate with wood, engraving and materials of fenua. "I know that it is done in Reunion where there is a manufacturer of caps like that.A friend returned from Hawaii with a cap like that too, but it was not the same process.I saw it turning and it was right in what I do: personalization. "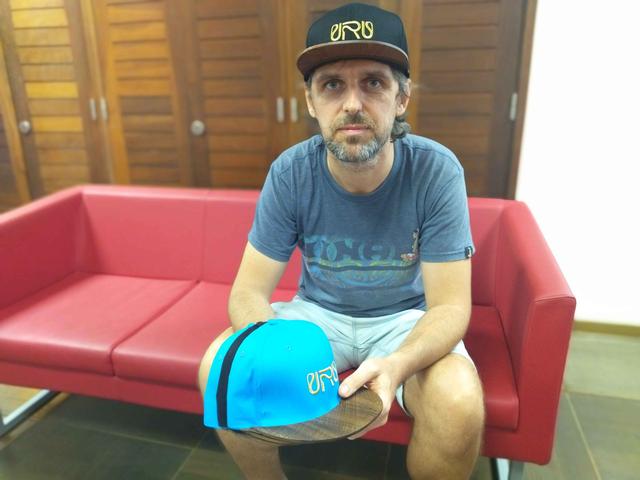 To carry out his project, Michael had to seek a textile manufacturer for a long time who agrees to produce caps with wooden visor."I had a hard time finding a manufacturer because he is a little special and many did not want to do it.So, I found a manufacturer in France, a group of young people ".
It was ultimately last December that he launched Uru (for "U r unique", you are unique): "I play with the acronym, the personalized side.The principle remains the personalized cap. "
The artist receives the cap ready to be personalized "either with mother -of -pearl, engraving, or mother -of -pearl and engraving.I also work on a model with a mother -of -pearl and a pearl in the middle.I wanted to see the cap a bit like a jewel.The city cap.Many make the surf cap, the sports cap etc.I wanted a slightly more classy model, a little more sober, like a jewel with the work of wood, mother -of -pearl. "
The visor is currently made of walnut wood, but Michael wants to work with local wood."We are starting to talk about it.I am starting to sort out local essences.(…) We are seeing that I send him local wood.I look at URU wood.For the moment we are doing tests. "
Tags:

What is a personalized jewelry